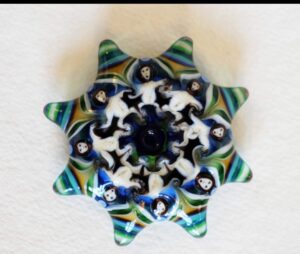 beauxbead@gmail.com
I am honored and grateful to be teaching again. It brings me great joy to share these ancient techniques with a modern Twist. It's amazing something so simple as a bead can help people work together in harmony around the world. Please come join us in this beautiful setting of Northern Italy for a small but wonderful brand new glass bead conference.
On the occasion of the first itinerant biennial of glass beads which will take place in August 2022 in Chiusa di Pesio, Italy, we are very pleased to announce that you will be able to attend a workshop with the American artist Beau Anderson, who will transmit his know-how and his art during two days!
Beau Anderson, born in Bellingham, Washington on April 4, 1980, was introduced to torchwork at the age of 7 by his mother "Sage", Beau has now been a torchworker for 35 years and has been teaching for 30 years. He has demonstrated and taught the art of flame glass throughout the United States and the world, both in private studios and in renowned schools such as the Corning Museum of Glass, Pratt Fine Arts School, Pittsburgh Glass Center, Pilchuck Glass School, Masters Class for Bead and Button Expo, etc.
Beau is passionate about travel, new experiences and nature, which is reflected in his art and teaching. Concerned with the sustainability of his approach, Beau strives for optimal efficiency and positive impact in his production methods and teaching techniques.
Beau is a people person and enjoys answering questions on all matters related to glass. Beau is known for his technical versatility, precision, charisma and dedication to his craft.
Beau's talent for crafting highly detailed pieces, the fluidity of execution in his work and the amount of varied themes used, has resulted in his pieces being collected around the world.
Some publications that include Beau's work:
– The History Of Beads Book by Lois Sherr Dubin
– Beads Of Glass by Cindy Jenkins
– Beading For The Soul
– Ornament Magazine
– The Japanese Lampworking Festival
– Glass Art Society Fashion Show, New York, New Orleans, Seattle, Toronto.
– Presenter, demonstrator at ISGB (International Society of Glass Bead Makers)
You will soon be able to register with the association to attend this Master Class.
Day 1: beginner / intermediate level, 150 euros for members, 200 euros for non-members.
Day 2: advanced level, 200 euros for members, 250 euros for non-members.
Priority will be given to people wishing to participate in both days of training.
If you have any questions, do not hesitate to ask them directly in comments. Members will receive all useful information via the newsletter.
Enter
Beau
Beau Anderson
workshops 1 day with Tom Holland Bent Beads and Life Rings at Sonoran Glass School Feb 2, 2020
Tom and Sage Summer Solstice Glass Bead workshop and retreat June 19.20,21 Glorieta Glass outside of Santa Fe New Mexico 2020
Off The Beaten Path Studio Tour ,demonstration and sales exhibition Sept 16-18 Mountain View Arkansas
Arkansas Craft Guild Christmas Showcase Downtown Convention Centre Little Rock Arkansas Dec 2-5
for the above shows or classes in the USA contact sageandtomemail@gmail.com
Beadmaking Classes with Beau Anderson, Sage & Tom Holland

[CPMV_CALENDAR view="1″]
We will teach individuals or groups.
Set up a class to fit your needs!
We can come to you or your local school and instruct.
Check the calendar for scheduled classes or contact us.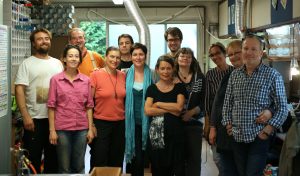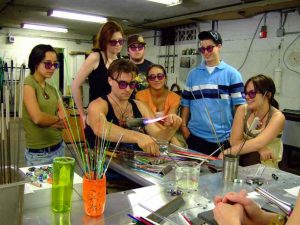 Liquid Core: Adventures in Glass Bead Making with New Tungsten Mandrels
Sage Holland or Beau Anderson
one day workshop April 23rd
Level: Intermediate to advanced
Maximum Class Size: 8 Minimum 5
Class Fee: $190.00
Bent Beads and Life Rings
2 day workshopTom Holland
Level: Intermediate to Advanced
Maximum Class Size: 8
Class Fee: $340.00
Beadmaking Classes with Beau Anderson, Sage & Tom Holland
We will teach individuals or groups.
Set up a class to fit your needs!
We can come to you or your local school and instruct.
Check the calender for scheduled classes or contact us.
November 2023
M
T
W
T
F
S
S
1
2
3
4
5
6
7
8
9
10
11
12
13
14
15
16
17
18
19
20
21
22
23
24
25
26
27
28
29
30